Serverless,
Scalable and Cost-Saving
Leverages cloud infrastructure and integrates with cloud-native ecosystems.
Elastic scaling of storage and computing.
Multi-tenant and pay-as-you-go for lower costs.
Free engineers from heavy workloads and easily manage cloud services.
Integrated with cloud-native OLAP and AI-driven modern data ecosystem.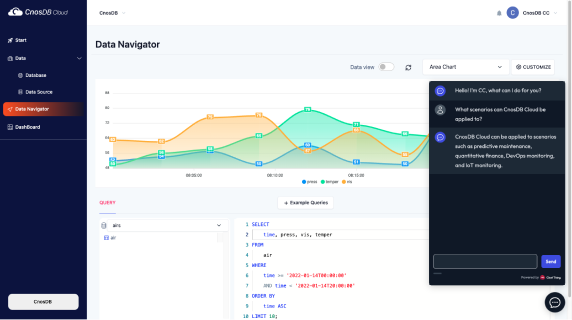 High Performance,
High Compression Rate,
High Ease-Of-Use

High Performance
Support very large data size; fast batch writing; ultra-high data compression ratio

High Ease of Use
Compatible with mainstream timing database; rich calculation functions; excellent ecosystem

100% Open Source
Stand-alone, distributed and ecological tools, etc. all adopt the AGPL-3.0 open source protocol
Get started with
CnosDB in minutes
Simply install CnosDB using Docker with just one command:
docker run --name cnosdb -d cnosdb/cnosdb:v2.2.0 cnosdb run -M singleton
Alternatively, you can install CnosDB on other installation options.
Engineers' favorite
programming
languages
CnosDB provides fast and intuitive developer experience with support for popular programming languages like Java, Python, Rust, and Golang. Our community offers additional drivers.
Join our developer community
Welcome to this cloud-native database systems, which is now open-source.